Kane County Attorneys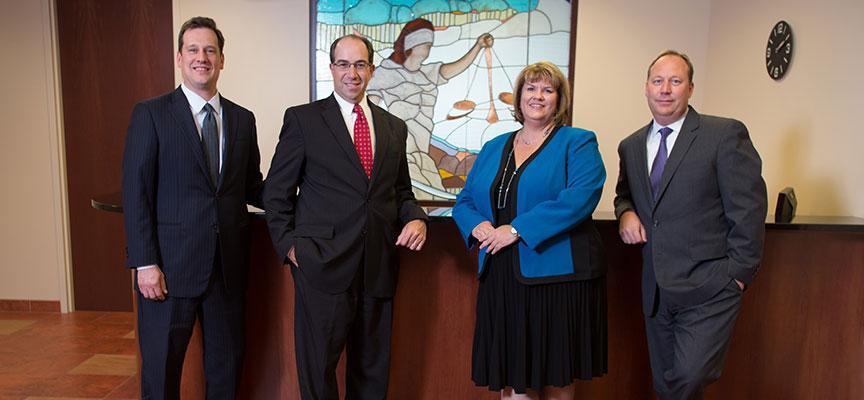 Illinois Lawyers for Business Law, Personal Injury, Family Law, Real Estate and Criminal Defense
The law firm of Ariano Hardy Ritt Nyuli Richmond Lytle & Goettel, P.C. (AHR) has provided trusted legal services to clients in the Kane County, Illinois, area for over three decades. Our office consists of an esteemed group of professionals who, individually, are widely regarded in his or her areas of practice. This fusion of leading attorneys allows AHR to truly act as a full-service firm while remaining highly focused in many areas of law.
Quality Service and Responsive Communication
Our practice is defined by quality relationships built on trust, mutual respect, and measurable results. We are committed to maintaining clear, open communication with clients. We explain your costs and legal fees in a straightforward manner to help you truly understand the value we provide. The lawyers of AHR see success as achieving a client's intended legal result in the most efficient, effective way possible. When a client entrusts his or her legal needs to our firm, we make sure they know exactly how their money is being spent to achieve their desired outcome.
Local Leadership and Memberships
AHR is active within the local community, serving on the Village of South Elgin Board of Trustees and the St. Charles Park District Board. Our attorneys have acted in leadership roles as members of Advocate Sherman Hospital Board of Directors and board members of and legal counsel to Food For Greater Elgin, a regional food pantry. Additionally, some of our firm's members have been volunteers for Hesed House in Aurora, Administer Justice, and Prairie State Legal Services.
Nationally, our firm is proudly affiliated with the American Academy of Matrimonial Lawyers (AAML). Fellows of the AAML are chosen based on substantial experience in family law and the ability to handle complex family law cases, as well as recognition as a leading practitioner of matrimonial law by the bench and bar. They must also demonstrate that they are involved in studying, improving, and advancing the area of matrimonial law.
We also are members of the Kane County Bar Association and the Illinois State Bar Association, and several of our attorneys have served in leadership roles in both organizations over the years. Attorney Lisa Nyuli was named as a Super Lawyers top-rated attorney. Attorneys Lisa Nyuli, Ralph Hardy, Norb Ritt, Scott Richmond, Karrsten Goettel, and Aaron Lytle were named Leading Lawyers by Leading Lawyer Network for 2017.
Contact Our Skilled Kane County Lawyers

AHR offers personalized legal assistance in matters of commercial litigation, business law, estate planning, real estate, family law, and more. We adhere to principles that clients deserve a commitment to quality, responsiveness, and value. To contact our South Elgin office, call 847-695-2400. AHR's Huntley, Illinois, office can be reached at 847-669-5020.