Bad Weather in the Chicago Area Brings Auto Accident Injuries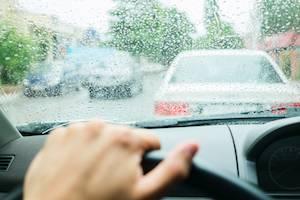 Autumn, some Chicagoans contend, is either a remarkably brief season or one that actually starts weeks prior to the first day of fall in September. Splendorous yellow and red leaves appear on tree-lined streets, Lake Michigan changes from a hub of activity to a mere inlet of water in the blink of an eye, and Chicago area children from Elgin to Edgewater enjoy final strolls along the outdoor areas of the city's zoos and gardens.
Weather in the Chicago area is mighty, and it takes a toll on the city's streets and highways. As the old joke says, there are only two seasons in Chicago: winter and construction. However, rush hour traffic on streets slick with rain or snow and ever undergoing repairs is no laughing matter. Car accidents happen and, sadly, injuries result.
Negligence is a Common Cause of Car Accidents No Matter the Season
When a car accident, especially one that results in property damage and personal injuries, happens on a Chicago area road or highway, it's not nearly enough to chalk it up to inclement weather and somehow just "move on." No, responsibility must be taken for the damage done. Insurance claims must be filed, vehicles must be repaired or replaced, injuries must be attended to, and police reports must often be made.
At the root of many auto accidents is the legal doctrine of negligence. Negligence is the breach of a duty owed that causes damages. In the case of a car example, the duty is that of safe driving in an adequately maintained vehicle in accordance with the rules and regulations of the road as mandated by Illinois state law.
Obtaining Financial Damages for a Car Accident Caused by Negligence
When the duty of safe driving has been breached, whether by driving too fast or dangerously, or by driving under the influence of alcohol or drugs, and this breach causes structural damage to one's vehicle or injuries to one's body, it is possible to obtain financial damages from the party responsible to account for vehicle repairs, medical bills, pain and suffering, lost income due to missed work, and more.
If you have suffered personal injuries while driving on account of the negligent or intentionally wrongful driving conduct of another person, the dedicated and experienced attorneys of Ariano Hardy Ritt Nyuli Richmond Lytle & Goettel P.C. can help you receive the compensation you deserve. Contact a Kane County personal injury attorney at 847-695-2400 to schedule a free consultation.
Sources:
http://www.ilga.gov/legislation/ilcs/ilcs3.asp?ActID=1865&ChapterID=50