New Illinois Laws in 2022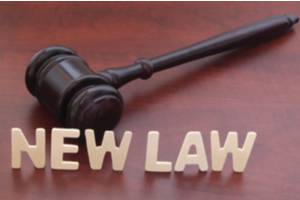 With the beginning of the new year, the state of Illinois passed several new laws that will impact the lives of the state's residents. Here are a few new laws of interest in 2022:
Minimum Wage Increase (Public Act 101-0001)
Illinois is one of the states set to raise its minimum wage to $15 an hour by 2025 which means that in 2022, the state minimum wage will increase to $12 an hour. The increase in minimum wage applies to all standard workers and any workers under the age of 18 who work more than 650 hours per calendar year. For workers under 18 who work less than 650 hours per calendar year, the minimum wage will increase to $9.25 an hour. Tipped employees may be paid 60% of the minimum wage. However, if these workers do not earn the minimum wage after receiving tips, the employers must make up the difference.
Amendments to Illinois Secure Choice Savings Program Act
This Act, which was initially implemented in 2018, requires any employers of 25 or more employees to contribute to Roth IRAs for its employees through payroll deductions. This does not apply to employers who already offer an employer-sponsored retirement plan. An amendment to this Act which took effect January 1, 2022, will now qualify an "employer" as one who has more than 5 employees employed during every quarter of the previous calendar year, has been in business for at least 2 years, and has not offered a qualified retirement plan in the preceding 2 years. Employers with fewer than 25 and more than 15 employees will be required to enroll in the program by September 1, 2022, and employers with at least 5 employees but no more than 15 employees will need to enroll by September 1, 2023.
Protecting Household Privacy Act (Public Act 102-0597)
This Act forbids law enforcement from obtaining data collected, stored, or shared by household electronic devices (such as computers, phones, or tablets) without a warrant, a court order, the permission of the device's owner, or in an emergency. If law enforcement does collect information from household devices in cases where no criminal charges are filed, the information must be destroyed within 60 days unless there is reason to believe it contains evidence of a crime or it is relevant to an ongoing investigation. As a result, your digital records and privacy are now better protected by the law.
Free from Fees after Losing a Loved One (Public Act 102-0112)
When a loved one passes away, families are tasked with honoring their family member's wishes, beginning the probate process, and more. Now, because of Public Act 102-00112, Illinois families will not need to worry about early termination fees on contracts for telephone, cellular telephone, television, Internet, energy, medical alert system or water services for deceased loved ones as the law ends these early termination fees following the death of an Illinois resident. The bill for services rendered must still be paid, but early termination fees are now prohibited.
Business tax updates (Public Act 102-0016 amended section 203)
This Act serves to decouple Illinois from Federal 100% bonus depreciation for tax years ending on or after December 31, 2021. Use Form IL-4562, Special Depreciation, Line 8, to include the amount of federal depreciation you would have claimed for this taxable year if you had elected not to claim bonus depreciation on your federal return.
If you have any questions regarding the new laws going into effect this year and how they may impact you or your business, contact us at 847-695-2400 or visit our website at https://attorneys-illinois.com