Distracted Driving Can Cause Fatal Car Accidents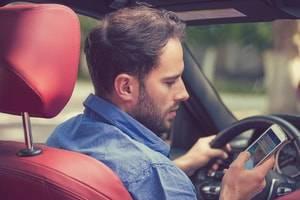 Everyone who uses the road has a duty to protect the safety of others. Unfortunately, many drivers neglect this duty and fail to drive as safely as possible. One of the most common ways that drivers endanger themselves and others is by not paying full attention to the road. Distracted driving can lead to car accidents that result in serious injuries and death, and those who are injured by a distracted driver should be sure to understand their options for pursuing compensation for their damages.
The Dangers Posed By Distracted Driving
Driving is such a commonplace activity that many people divide their attention between the road and a variety of other concerns. While multi-tasking may seem to be an effective strategy in many areas of one's life, driving is not one of them. Drivers should keep their complete attention on the road, since even momentary distractions can have deadly results. In fact, more than 420,000 injuries and 3,100 fatalities occur in the United States every year as the result of distracted driving.
Using cell phones or other electronic devices while driving is one of the most common types of distracted driving, yet it is also one of the most dangerous. Drivers who interact with their cell phones increase their crash risk by 360%. But even though the dangers of using cell phones while driving is well known, nearly one third of drivers aged 18 to 64 continue to send or read text messages while they are behind the wheel.
Distracted driving can take a variety of other forms, and drivers may not be aware of the many types of distractions that can affect their safety. These distractions include:
External distractions - Drivers often take their attention away from driving to look at objects, people, or events that are not related to what is happening on the road around them. These distractions may include billboards, disabled vehicles, animals on the side of the road, or eye-catching buildings or people.
Visual distractions - These distractions include any reasons a driver averts their eyes from the road, such as GPS systems, smartphones, or children who command a parent's attention.
Manual distractions - Taking one's hands off the steering wheel to perform other activities is a major source of distraction. These activities may include smoking cigarettes, adjusting seats or radio settings, eating and drinking, or reaching for objects within the car.
Cognitive distractions - Drivers may divert their attention from tasks related to safe driving in a variety of ways, including carrying on conversations with passengers, singing along with the radio, or focusing on personal problems related to relationships, work, or finances.
Contact an Elgin Car Accident Lawyer
If you have been involved in a motor vehicle accident which was caused by a distracted driver, our Kane County personal injury attorneys can help you gather evidence that will demonstrate the driver's negligence and work to make sure you receive the compensation you deserve. Contact Ariano Hardy Ritt Nyuli Richmond Lytle & Goettel P.C. at 847-695-2400 to schedule your free consultation today.
Sources:
https://www.nhtsa.gov/sites/nhtsa.dot.gov/files/documents/812407-distracteddrivingreport.pdf