How to Spot a Fraudulent Real Estate Investment Club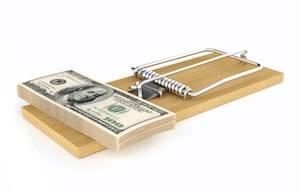 Thinking of investing in real estate? Investment deals can be complex, and those not familiar with real estate terminology or the banking industry can be taken advantage of. There are many scams surrounding real estate investing, and one type of scam that seems to be common in the Kane County area is the opportunity to join a real estate investment club.
Generally, this scam operates by asking that investors pool their money to buy properties that will be renovated or rented. Investors who may be priced out of investing in real estate on their own are promised large sums of money in return once the property has been sold.
To be fair, real estate investment clubs can be legitimate. However, some clubs make untrue and inaccurate representations about how the club is structured, what loans may be involved, and what the probable returns will be on these investments.
An Example of a Real Estate Investment Club Scam
In one potential scenario, investors may be asked to sign loan applications which serve as a membership to an investment club. Investors are told that they are part of a group that is buying properties that will be held for a period of time until they can be sold for a profit. In order to cover mortgage payments, the properties will be rented during this holding period.
While this type of arrangement can be legitimate, a scammer may use it to make money if he or she "flipped" the properties, selling them to the investors using inflated property values. Investors may end up with loans in which the amount owed is more than the property is worth, since the original values were inflated. If the properties are not be rented out as promised, investors are left responsible for loan payments that they cannot afford.
Red Flags Indicating a Club May Be a Scam
Investors should be on the lookout for the following signs of a scam which typically occur surrounding loan procurement:
The presence of straw buyers
Inflated appraisals
Falsified income
Avoidance of purchase guidelines
A large number of properties purchased
Club members located in several states
Contact an Elgin Commercial Real Estate Attorney
Before you choose to invest in real estate, you should have a legal team review all documents and contracts associated with your investment. Our savvy Kane County real estate lawyers will thoroughly review all information and advise you on whether such an investment is in your best interests.
It is important to consult with an attorney before you make a real estate investment. You may not have any recourse once you have already signed a loan and realize that you have been the victim of a bad deal or scam. To learn more about the legal issues to understand when investing in real estate, and to find out how our firm can help you, call our office at 847-695-2400 to schedule a free consultation.
Sources:
http://www.freddiemac.com/singlefamily/preventfraud/investment_property.html