Obtaining Compensation for Severe Personal Injuries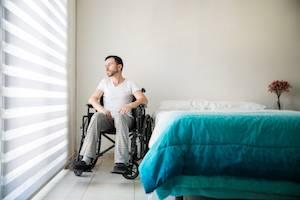 Illinois law allows personal injury victims to seek compensation from the individuals or institutions responsible for harms and losses suffered. Sometimes, the computation of this compensation, termed "damages" by the law, is relatively straightforward. When an arm is broken in a car accident caused by another driver's negligence, there are the costs of having the car repaired and the bone re-aligned and set in a cast, as well as pain and suffering, and any lost income due to missed work during any necessary rehabilitation.
Such consequential damages are designed to make things right – to allow an injury victim to be in (theoretically) as good of a position as they would have been had the negligence and subsequent accident never occurred. However, other personal injury scenarios – especially more severe injuries with long-term consequences – are not so easily translated into a clear and fair award of legal damages.
When Money Alone Cannot Restore a Victim to a Pre-Accident Position
Sometimes, tragically, the consequences of an accident are so dire that no award of financial damages can truly restore a personal injury accident victim to the position in life he or she occupied prior to the harm they suffered due to someone else's negligence. Severe injuries, such as those involving permanent paralysis or brain damage, must be viewed with a long lens to truly grasp the long-term consequences.
When a short or long-term disability has been suffered, a damage award is only adequate when it fully accounts for the full extent of the victim's and their family's pain and suffering and the true cost of additional health and home care needs. In such cases in which a severe, life-altering injury has been suffered, medical evidence and testimony must be provided to clearly establish every consequence flowing from the tragic event and the injuries sustained.
Advocating For Your Legal Rights and Future Needs
When you have suffered a severe personal injury, time is of the essence in filing a claim against all parties at fault for the harms and losses you have suffered. In advocating for your legal rights, the experienced attorneys of Ariano Hardy Ritt Nyuli Richmond Lytle & Goettel P.C. will seek compensation for your present and future medical bills, pain and suffering, lost income due to missed work, as well as costs and losses flowing from and short or long-term disabilities. Contact our Kane County personal injury attorneys today at 847-695-2400 to schedule a free consultation.
Sources:
http://www.ilga.gov/legislation/ilcs/fulltext.asp?DocName=073500050K2-1116