Obtaining Compensation When Icy Store Sidewalks Cause Broken Bones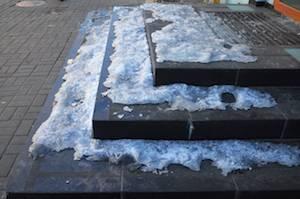 With snow falling in the Chicago area and temperatures fluctuating in the precarious area just above and below freezing, ice will be forming on streets and sidewalks throughout the region. This slick, slippery substance poses a real danger to pedestrians, whether they are enjoying holiday shopping and activities or are simply trying to get to and from work.
A slip-and-fall on ice can occur when you least expect it, sending you off balance and unprotected to the cold, hard ground below – sometimes while holding groceries or shopping bags and thus unable to stabilize yourself. First, there is the shock and surprise. Then, pain begins to set in. And in the worst cases, there is the realization that you have broken a bone, suffered nerve damage, or injured your spine.
It is one thing if ice has been allowed to form on your own front walk, but when ice is allowed to form on a business's entryway area, that is a different matter altogether. If you have suffered a slip-and-fall injury on an ill-maintained business entry, exit, or sidewalk area, the property owner or manager may be held liable for the damages you have suffered.
Negligence is a Basis for Seeking Compensation for Slip-and-Fall Injuries
Businesses owe a duty to their customers to protect them from harm while they are on the business's premises, irrespective of whether the customer buys something or not. In legal terminology, customers are classified as "invitees" of the business. To be an invitee is to have special status, to be owed a duty of safekeeping above even what individuals in society owe one another on the most broad and general level.
With regard to dangerous ice forming during inclement weather, businesses are required by law to protect customer invitees from slip-and-falls. In practical terms, this involves salting entryways, exits, and sidewalk areas – a process that works to dissolve ice or even prevent it from forming in the first place. Shoveling snow and clearing away ice is also a must, as is posting clear warning signs about the presence of slippery areas. When a business fails to undertake any of these precautions, it has failed in its duty to protect its customers and as such can be held liable for harms suffered.
Bringing a Legal Claim of Negligence Against an Illinois Business
If you have suffered injuries due to the negligence of an Illinois business in maintaining its entry and exit areas, you may seek financial damages for medical bills, pain and suffering, lost income due to missed work, and any short or long-term disabilities inflicted. The skilled, experienced attorneys of Ariano Hardy Ritt Nyuli Richmond Lytle & Goettel P.C. can work to protect your rights and help you receive the compensation you deserve. Contact our Elgin personal injury attorneys at 847-695-2400 to schedule a free consultation.
Sources:
http://www.ilga.gov/legislation/ilcs/fulltext.asp?DocName=073500050K2-1116