Pursuing Legal and Equitable Breach of Contract Remedies in Illinois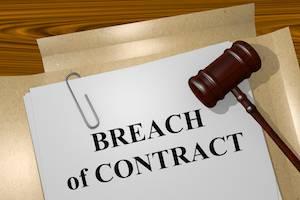 The new year is a time of busy planning for individuals and businesses all over the Chicago area, from downtown to South Elgin. Part of that planning, of ensuring that you and your business are able to meet your goals and obligations, is being able to count on the faithful execution of agreements entered into.
When you are in the business of supplying or receiving any type of goods or services, you know that the promises you make to vendors, customers, or businesses anywhere in the chain of retail or commerce are often contingent on the meeting of contractual obligations – the keeping of legally binding promises – by third parties. When you or your business suffers due to the breach of a contract by another party, legal recourse is available to you.
Money is the Measure of Legal Damages
Monetary damages and legal damages are synonymous. These are the most common type of remedy when there is a transaction-based breach of contract by a manufacturer, distributor, lender, partner, employer, employee, or other party of a transaction.
Because a financial loss suffered is often at the root of a breach of contract in the transactional setting, the theory pursued in litigation is one of "expectation." Expectation damages are designed to put the non-breaching party in the position it would have been in had the contract not been breached. Sometimes, expectation damages are as simple as the agreed upon price to be paid for goods or services that were duly delivered or rendered.
Other times, the calculus is more complex and more speculative. This is often the case when measuring the financial damage done involves scrutinizing one or more breaches in a chain of agreements by one or more parties. The same is true when the reputation of the non-breaching party is adversely affected by a breach of contract, and the damage to one's ability to compete in commerce is less tangible than a strictly monetary figure.
Pursuing Expectation, Consequential, Incidental, and Punitive Damages
When an equitable remedy such as the specific performance of agreed upon terms is not feasible, legal damages are the appropriate route. When pursuing the expectation damages you are entitled to, as well as any consequential, incidental, and punitive damages, you can rely on the experienced attorneys of Ariano Hardy Ritt Nyuli Richmond Lytle & Goettel P.C. With more than three decades of experience representing clients in complex business and corporate litigation cases, we can provide you with the legal help you need to reach a satisfactory resolution to your breach of contract case. Contact a South Elgin commercial litigation attorney today at 847-695-2400 to schedule a free consultation.
Sources:
http://www.ilga.gov/legislation/ilcs/ilcs3.asp?ActID=1272&ChapterID=22
https://www.law.cornell.edu/ucc