When Holiday Traffic and Large Trucks Combine to Cause Personal Injuries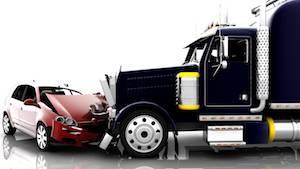 The presence of large trucks on Illinois roads and highways may be a source of anxiety for some drivers, especially in November as thousands travel to and from Chicago to celebrate the Thanksgiving holiday. Whether you are taking I-55 down to St. Louis, driving west on I-80 to the Quad Cities, going about your daily commute, or dealing with increased holiday-related traffic, you may breathe a little less easy when driving alongside a semi, trailer, or other large, sight-limiting truck. When your worst fears about truck-packed lanes are realized, resulting in a truck accident in which you suffer personal injuries, you need an experienced personal injury attorney on your side to assert your legal rights.
Truck Accident-Related Personal Injuries May Be the Result of Negligence
Accidents involving a large truck on the complex network of highways and streets in the Chicago area often involve a variable not present in ordinary car-to-car collisions: the existence of an employer/employee or employer/independent contractor relationship. In simple terms, the driver of a truck may be on the job, transporting goods or en route to receive them for his or her employer. The reason why this added dimension may be of relevance to an accident in which personal injuries result is that it bears on whether the driver, employer, or both parties are liable for financial damages arising from the injuries, property damage, pain and suffering, and any lost income due to missed work you have suffered as a result of the accident.
Negligence, the breach of a duty owed that causes damages, is a common cause of truck-related and other accidents. In truck accidents, the relevant question is who is liable for the negligence which caused the accident. In the case of truck accidents, this is often dependent on whether the driver is an employee working with assent, for the benefit, and under the control of an employer, or if they are an independent contractor.
Timely Filing Is Required to Recover Damages in a Personal Injury Claim
Whether the on-duty driver of a truck that was involved in an accident is an employee or an independent contractor, Illinois law in most cases requires that any personal injury claims be filed within two years from the date of the accident. An experienced personal injury attorney is essential in complying with time limits, determining whether an accident was the result of negligence, and identifying whether the driver was an employee or independent contractor.
If you have been injured in a truck accident, the attorneys of Ariano Hardy Ritt Nyuli Richmond Lytle & Goettel P.C. can help you receive the compensation you deserve. Contact a Kane County truck accident lawyer at 847-695-2400 to schedule a free consultation.
Sources:
http://www.ilga.gov/legislation/ilcs/ilcs3.asp?ActID=1865&ChapterID=50
http://www.liftlaws.com/illinois_lift_laws.htm
http://www.idot.illinois.gov/home/truck