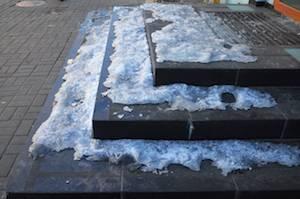 With snow falling in the Chicago area and temperatures fluctuating in the precarious area just above and below freezing, ice will be forming on streets and sidewalks throughout the region. This slick, slippery substance poses a real danger to pedestrians, whether they are enjoying holiday shopping and activities or are simply trying to get to and from work.
A slip-and-fall on ice can occur when you least expect it, sending you off balance and unprotected to the cold, hard ground below – sometimes while holding groceries or shopping bags and thus unable to stabilize yourself. First, there is the shock and surprise. Then, pain begins to set in. And in the worst cases, there is the realization that you have broken a bone, suffered nerve damage, or injured your spine.
It is one thing if ice has been allowed to form on your own front walk, but when ice is allowed to form on a business's entryway area, that is a different matter altogether. If you have suffered a slip-and-fall injury on an ill-maintained business entry, exit, or sidewalk area, the property owner or manager may be held liable for the damages you have suffered.
...